The 6th World Congress on Regional Anaesthesia and Pain Medicine is coming back to Europe!!!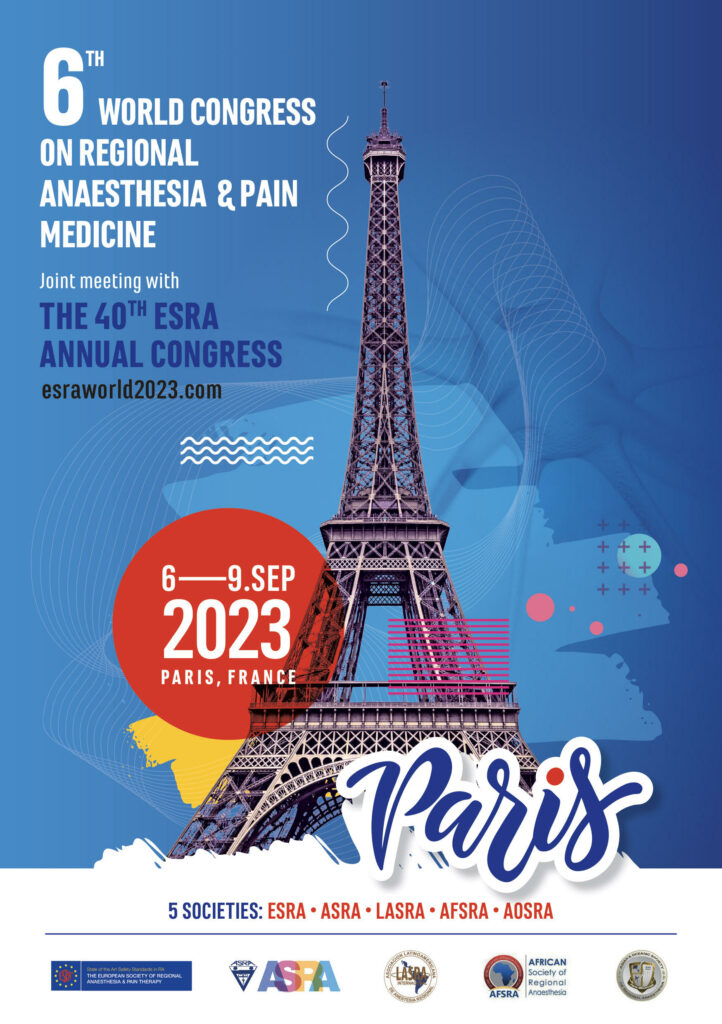 In 2022, the European Society of Regional Anaesthesia and Pain Therapy (ESRA) celebrated its 40th Anniversary since its establishment.
Following the great success in Thessaloniki – Greece last June, during our first kick-off, face-to-face meeting since the pandemic, we have again the immense privilege and ultimate pleasure to invite you to Paris, for the 6th World Congress on Regional Anaesthesia & Pain Medicine (WCRAPM), hosted by ESRA this time.
For this occasion, the organizers have been working hard to offer you a truly wonderful and unique Parisian experience. Paris is full of surprises and so is the Congress scientific content, unfolded in a 4-day Meeting, in more than 15 Parallel Rooms.
What to expect at WCRAPM 2023
Impression on Social Media
Network with a Global Community of RA and Acute- Chronic Pain Professionals
Expand your Knowledge in RA & Pain Medicine
Present your Latest Ideas and Research
Be Empowered and Learn Beyond your Field or Interest
Showcase your Brand, products ans services to an engaged audience of docteurs in Regional Anaesthesia & Pain medicine from all over the World
How can I participate in 2023?
Whatever the size of your company or the level of commitment, we offer a number of different opportunities for healthcare companies and organizations
This is Your opportunity in 2023 to network, as well as to share and underpin the latest updates, advancements and leading–edge research and innovation across the spectrum of Regional Anaesthesia (RA), Perioperative care, PocUS, as well as Acute Postoperative & chronic Pain Management.
For more informations you can contact:
Beatrice Torri
ESRA Industry Manager